About Us
Welcome to our Aagantuk Resort. Embrace tranquil serene surroundings at banepa away from the hustle- bustle of noisy city environment. We are here to take care of your precious holidays to provide the best rates & facilities for booking in Aagantuk Resort.
Centered brilliantly on Banepa (3km away), Aagantuk Resort is an ideal place to settle down a good and luxurious stay. One of the best boutique style resorts inside the valley with a land area of 72 ropani. Our finest chefs brings you the most delicious mouthwatering foods. With exclusive parking spaces, high-speed Wi-Fi, hot water supply, terrace apartments, and a rooftop view of the valley, spa, gym, swimming pool, varied food expertise. There's nothing you would be wanting more from us but a promise to accommodate you on your next visit.
With our experienced and humble employees catering to your needs, your stay with us will be worth every penny you have spent. Our house keeping are trained and an expert when embrace tranquil serene surroundings at banepa away from hustle- bustle of noisy city environment comes to tend to your comfort. This will be an escape from your entire travelling and a home away from home. We also provide logistics and ticketing facilities so that you can be assured about your daily hassle in terms of local as well as regional transport. To ensure that all our travel arrangements are comfortable and economical, we provide you with vehicle ranging from economy to luxury as per your demand with an experienced chauffeur.
OUR VALUES
Garner personalized services and develop relationships.
Uphold professional excellence to exceed expectations and create a memorable guest experience.
Ecofriendly practices to promote sustainable business.
Support community & attract local talent.
Think advancement for continual growth profitability.
ABOUT BANEPA
Banepa is situated in the central part of nepal just before dhulikhel. This is just 32 km east from the kathmandu valley. The main attractions of banepa are grand and panoramic mountain views, temples, and different types of landscape and a diversity of people. It is a popular himalayan viewpoint with a complete panoramic view of the snowy ranges from karyolung east himchuli to west. The old part of this town is an interesting area to wander around with some line old nepalese buildings and several interesting temples. A short day trip to sukute beach for rafting experience is equally exhilarating.
HIKING TRAILS
NAGARKOT: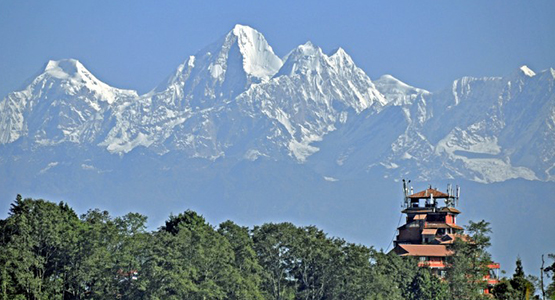 Nagarkot is a village in central Nepal, at the rim of the kathmandu valley though it takes around 4-5 hour from Aagantuk Resort, hiking. During hiking to nagarkot we can witness the different types of natural species and panoramic view of hills, himalayans & landscape.
NAMOBUDDHA:
Namo Buddha is the third most important religious site for buddhist in nepal which is approximately 45 km away from the kathmandu valley by bus. A short hiking can be done from Aagantuk Resort to namo buddha through dhulikhel and during hiking we can witness the beautiful scenery of the nature. Namo buddha is a religious place and most of the people living here belong to tamang community and they genuinely follow buddhism. In short namo buddha day hiking is intended to the people who don't have enough time to explore stunning landscape and himalayan region.
BALTHALI: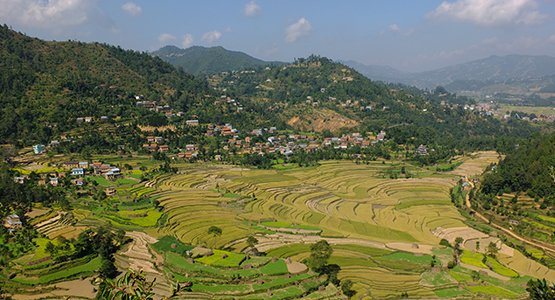 Balthali is one of the short and interesting treks nearby kathmandu valley where we can experience rich rural culture, religion and lifestyle of the local people. The trail goes through terraced fields and forested ridges. This is a perfect trek for family with children and friends.
KASHI BHANJYANG: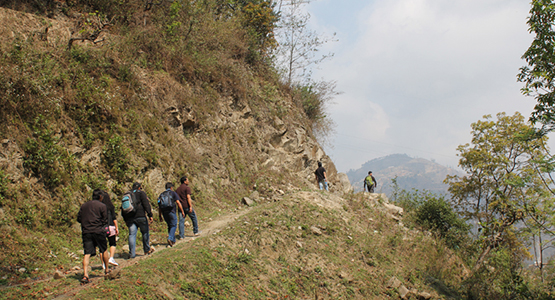 Kashibhanjyang is a beautiful place with waterfall encountered this beautiful gift of nature during a hike to nagarkot.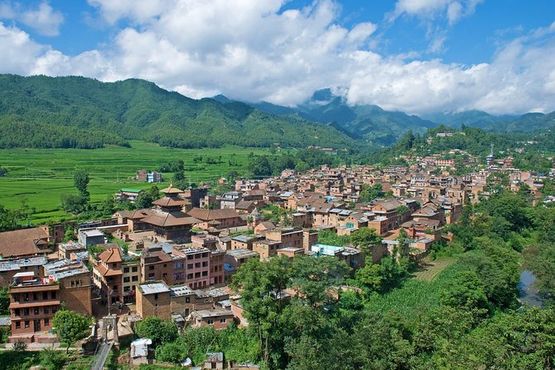 PANAUTI:
Panauti, one of the oldest towns in nepal 7km from Aagantuk Resort. The town is currently listed as a UNESCO tentative site since 1996. Panauti is also considered as city of ancient temples. The medieval town is an important cultural site in nepal. Panauti, situated at the confluence of the two rivers rosi and punyamati, has been regarded as an important religious site since very early times. In nepali society, such rivers are considered to be sacred. A visit or just an ablution to such places enables the visitor to be freed from many sins and anxieties, as it is believed to be sacred. Moreover, it is also believed that at panauti, in addition to aforesaid two rivers, a third river lilawati also converges making it again a
tri-junction called triveni. However, the last one is said to be visible only to the sheers and the intellectuals. The presence of this at panauti has added and remarkably enhanced its religious sanctity and popularity as well. On account of this, every festive occasion, a great number of devotees from all across the country pour here for a holy ablution and to pay homage to the nearby indreshwor mahadev temple and other holy sites located here.